Local Events
Children in Need
League competitions (see Local Events on the Event Types page for further details)
Major events
British Schools Championships
British Championship
International Events
World Schools Championship
European Youth Orienteering Championship
Junior European Cup
Interland
Junior Home International
Jk International Festival
Children in Need
2014
The newly trained young leaders organised a successful night both indoors and out. We offered a 'bring a friend' scheme and once again raised an excellent amount of £150.
2013
2012
Young Leaders taking an evening club night, a cones exercise and gym orienteering before the curtain call with the whole cast in pyjamas. All in aid of the 2012 Children in Need, the amount raised so far is approaching £237.19 so far and counting.
Well done to all those involved.
Click on an image to enlarge.
---
World Schools Championship
2017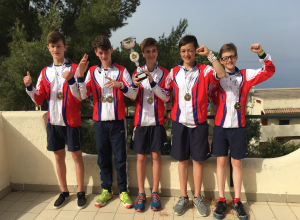 Ashleigh Howells and Charlie Rennie were selected for the English Schools Team for the competition in Sicily in April 2017. Charlie was a silver medallist in the junior boys team.



England Junior Boys Team 2017



2015
In this biennial event, for the first time runners from Leicestershire found success at the World Schools Trial in November 2014. Loughborough High School represented England in the Senior Girls Team competition in Turkey in April 2015. Euan Tebbutt and Imogen Wilson were non-travelling reserves for the Open race.
---
British Schools Orienteering Championships
2017
These are being held in South Yorkshire and the Forest of Dean.
2016
The Score Championships was held at Bagworth Woods, Leicestershire on 8th October 2016. The list of successes is shown on the Club honours board and included wins for Finn Lydon (B12/13), Ethan Tebbutt (B9), Charlie Rennie (B8) and Daisy Rennie (G6). Winning teams were from Loughborough High School and Leicester Grammar Junior School.
Charlie Rennie was the only LEI winner of the Schools Championship at Sutton Park.
2015
Leicestershire pupils did well at the British Schools Score Orienteering Championship organised by Guildford Orienteers on Chobham Common on Saturday 10th October. Loughborough High School retained its Lower Secondary girls title and were second in the Upper Secondary class. Leicester Grammar School were second in Middle Girls and First in the Middle School Boys competition.
Daisy Rennie (G5) her brother Charlie Rennie (B7) and Ethan Tebbutt (B9) all won their age group. Previous multiple winner Euan Tebbutt was third in the Boys 12/13.
Three other girls from the club competed in Year 10/11 and were close to podium finishes
2014
Score event October (45 minute score)
Leicestershire children did very well in the Score event on Saturday 11 October at Redditch, taking three out of the four primary school titles. Winners are pupils at Hall Orchard PS, Leicester Grammar School and St. Pauls C of E. In the Team competition Leicester Grammar Juniors were second in both the primary boys and girls.
In the secondary age groups there was one winner from Twycross House. There were three other medallists one each from Loughborough High School, De Lisle and Winstanley.
In the Team competition Loughborough High School were second in both the Lower and Upper Secondary girls classes.
Classic event November
Leicestershire children had mixed results in the championship in Leeds. We had two winners: pupils at St Pauls Woodhouse Eaves C of E and Twyford House In the Team competition Leicester Grammar School Juniors were third, Brookvale High School girls were fourth in the middle schools and Loughborough High school were 7th in Large Secondary (9 to count).
There were medallists from Hall Orchard Primary, De Lisle College and Winstanley College.
2012
12 LEI juniors competed at the British Schools Orienteering Championship on Sunday 18 November. The Leicestershire results were the best ever. Hannah Cox was an outstanding winner and Ashleigh Howells was third, some excellent runs from those who just missed out too. Well done to all club members who ran and to Loughborough High School who at their first attempt were the second best girl's school in the country and also just beat the Nottingham High School (boys). Pictures are available on the British schools web site.
---
British Championships
There are five British Championships each year. A relay and one at night which is only open to older Juniors. Our most recent medallists are:
| Competition | Year | Class | Position | Name |
| --- | --- | --- | --- | --- |
| Sprint Distance | 2015 | M10 | 1 | Harrington Leake |
| Long Distance | 2015 | M10 | 1 | Harrington Leake |
| Middle Distance | 2015 | M10 | 1 | Harrington Leake |
| Sprint Distance | 2014 | M10 | 3 | Ben Hardy |
| Night | 2013 | M20 | 2 | Simon Bradbury |
| Sprint Distance | 2013 | M14 | 1 | Finn Lydon |
| Sprint Distance | 2013 | W16 | 2 | Hannah Cox |
| British Middle Distance | 2013 | M14 | 2 | Finn Lydon |
All recent results are found on the 'Awards' under Members on this web site
http://www.leioc.org.uk/members/awards/
Most recent British Championship winners:
| Long Distance | Middle Distance | Sprint Distance | Night |
| --- | --- | --- | --- |
| | | | |
| Mairead Rocke 2009 | | Finn Lydon 2013 | Ben Windsor 2009 |
---
World Junior Championship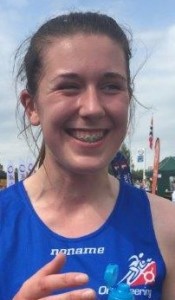 In 2015 Hannah Cox ran for the GB team in Norway
---
European Youth Orienteering Championship
2014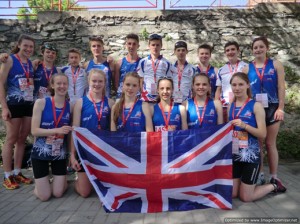 GB team in Macedonia, Hannah Cox was the best placed GB athlete in the Sprint Distance.
---
Junior European Cup
2014
Congratulations to Junior Club Captain Hannah Cox on her W18 7th place, today (3rd October) in the Junior European Cup Sprints at Lommel in Belgium.
---
Interland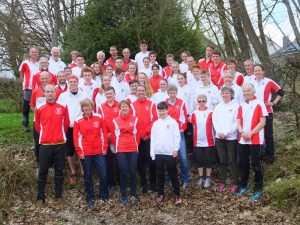 This competition is for all ages and is between six countries /regions. There are three autumn selection races and the competition take places in the Spring and there are normally seven juniors in the team. Club members representing England in this competition have been:
| Year | Location | | |
| --- | --- | --- | --- |
| 2018 | Holland | | |
| 2017 | Belgium | Imogen Wilson | |
| 2016 | | | |
| 2015 | Surrey England | Imogen Wilson | Euan Tebbutt |
| 2014 | Pas-de-Calais near Bruay La Buissière, France | Imogen Wilson | Hannah Cox |
| 2013 | Breda, Southern Netherlands | Finn Lydon | Gabriel Rawlinson |
| 2012 | Habay-la-Neuve, Belgium | Euan Tebbutt | |
---
Junior Home International
This annual event is one of three age group competitions between England, Northern Ireland, Scotland and Wales. The last selection was:-
| Year | Class | Name |
| --- | --- | --- |
| 2013 | M14 | Euan Tebbutt |
---
JK International Festival
This annual event is the largest competition in Britain and consists of four days racing and is in memory of Jan Kjellstrom.
| | | |
| --- | --- | --- |
| Day 1 | Good Friday | Sprint |
| Day 2 | Easter Saturday | Classic (Middle Distance for Elites) probably for all in 2016 |
| Day 3 | Easter Sunday | Classic |
| Day 4 | Easter Monday | Relays |
The Leicestershire club organised and planned the Day 3 of the festival in South Wales in 2014. 2600 runners, including 600 from overseas, took part in awful weather, fog and thunderstorms. Our junior medallists for the weekend were:
| Competition | Year | Class | Position | Name |
| --- | --- | --- | --- | --- |
| Sprint Distance | 2014 | M10 | 2 | Ben Hardy |
| Sprint Distance | 2014 | W18 | 3 | Hannah Cox |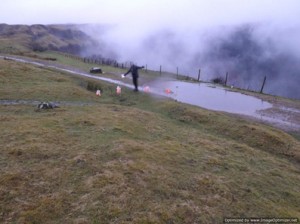 The last control day 2 and 3
Other pictures can be found at: http://www.thejk.org.uk/jk2014/