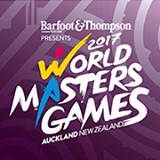 The countdown is on for the 2017 World Masters Games in Auckland, New Zealand where Orienteering will be one of 28 sports taking place across 45 competition venues.
With a total number of 25,000 athletes expected to compete in 2017, World Masters Games is the world's largest multi-sport competition for masters-aged athletes.
The World Masters Games 2017 Orienteering competition serves as the 2017 International Orienteering Federation (IOF) World Masters Orienteering Championships.
Delivered in conjunction with Orienteering New Zealand, there are two disciplines on the competition schedule. The Long Distance events will be located at Woodhill Forest. The Sprint Model and Sprint Final events will take place at The University of Auckland Epsom Campus and City Campus respectively. Whilst Auckland's beautiful Waterfront has been selected to host the Qualification event. The minimum age category for both men and women is 35+.
Reflecting on the sheer size and scale of the international event, World Masters Games 2017 Organising Committee Chief Executive Jennah Wootten says:
"Our goal is to deliver on every level a superior Games, for the thousands of competitors who will travel internationally to compete, and for the good of our reputation as a host nation.
"We hope people will get behind the Games effort, and start registering their interest – either as participants, officials or perhaps volunteers. We'll be welcoming athletes from 100 countries to our country for the World Masters Games. We know New Zealanders will welcome these visitors in true kiwi style, and no doubt put up some stiff competition to keep the Games interesting."
Learn more about World Masters Games 2017 at www.worldmastersgames2017.co.nz.
Or sign up to the World Masters Games 2017 newsletter to receive updates about the event.