Developing your school | Competitions |Contacts and Newsletters | Safeguarding | Xplorer
Children enjoy orienteering because it is a fun way to explore wild outdoor areas, to get fit, and to gain confidence with maps.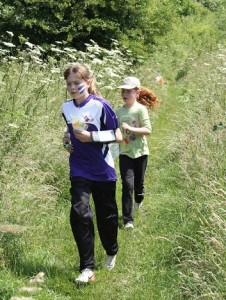 School Orienteering in Leicester, Leicestershire, Rutland and Northamptonshire
Many local schools have been mapped enabling basic map reading skills to be practised.
Some school groupings arrange festivals and district competition
3 schools have attended national competitions and achieved podium places. In 2018 Leicestershire schools and individual students achieved 1st places in the British Schools Score Championship and British Schools Championship.
Several students have been included in the England International Team.
Two Students ran for England in the 2017 World Schools Orienteering Championship in Sicily. The boys were silver medalists.
Leicestershire Orienteering Club is keen to build on these achievements by helping schools initiate orienteering activities and to offer opportunities for students to make the transition to orienteering at local club events.
Please contact our Development Coordinator (details below) for advice on how to plan orienteering activity with your school.
---
Developing Orienteering in Your School
Orienteering is a cross-curricular activity that supports Maths, PE and Geography. The lead in a school could be taken by any subject teacher. Simplified and progressive orienteering activities can start in the school grounds or inside the classroom.
British Orienteering supports the development of orienteering in schools. Advice on mapping, teacher training, community orienteering, competitions and resources can be found on their School Orienteering web page. Their schools newsletter will keep you informed about curriculum developments and courses (see below). British Orienteering Resources
You may also find links on the Introduction to Orienteering page helpful.
The Leicestershire Orienteering Club can provide technical support, (mapping equipment loan). Contact the club's Development Co-ordinator (see below) to discuss your requirements.
Permanent Courses
Several schools use Permanent Orienteering Courses(POC) nearby. Maps for most of the courses can be downloaded from Go Orienteering. POCs use fixed plaques to indicate the check points. Recently Virtual Orienteering Courses(VOC) have been developed that use GPS signals which register on participants mobile phones. Go Orienteering gives advice about both POCs and VOCs.
For some locations, maps are sold on site, e.g. Bradgate Park.
Teacher Training
The Leicester Outdoor Pursuits Centre hosts a practical course annually aimed at those teaching beginners at primary or secondary schools. These are at 2 levels, with Level 1 being a prerequisite for 2.
Upcoming national Teacher Training courses are shown on Teacher training courses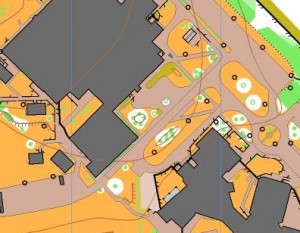 Introducing Orienteering elearning course
For teachers and youth leaders, an hour long course with resources for £30.
https://www.britishorienteering.org.uk/elearningcourses
Mapping your school
A map of your school provides a safe environment for children to get used to reading a map. They can learn the basic skills of lining up the map with what they can see around them, understanding the concept of scale and how symbols/colours can represent objects. If the map is drawn to the ISSOM standards they can also learn the symbols and colours used on all orienteering maps. For details about mapping your school download this document: Mapping your school.
It is possible to create your own map and there is shareware available for this, but most teachers find this is too time-consuming. To discuss getting your school mapped using ISSOM standards contact the club's Development Co-ordinator (see below).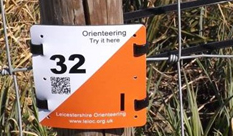 The club can provide permanent course plaques for schools for fixing with screws (for wood and bricks) or cable ties (for fences).
Computer Timing Equipment
Schools wishing to borrow a set of timing equipment, dibbers and a results printer should contact the Development Co-ordinator (see below). For bigger events you may be able to borrow a British schools' box of dibbers. There is no hire charge. However, if required, there will be a charge for delivery and any losses paid for.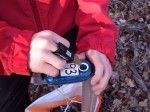 ---
Competitions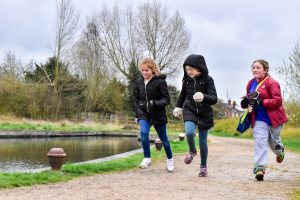 NW Schools Championship, Donisthorpe
Working with the NW Schools Sport Partnership, in 2019 over 700 pupils from 30 primary schools and two secondary competed in this annual event in the Spring term.
More Photographs from NW Schools Championship
Other Competitions
See Schools Events for local and national school competitions
See Other fixtures for details of all local events organised by our club, most of which are suitable for newcommers.
2015 British Championship Boy Under 10
1st – Harrington Leake, St Paul's Primary, Woodhouse Eaves
2015 World Schools Championship
England Senior Girls Team: Loughborough High School
2015 Schools Championship
1st Small Secondary School – Loughborough High School
1st Primary School -Leicester Grammar Junior School
See also the list all successes at schools competitions.
---
Xplorer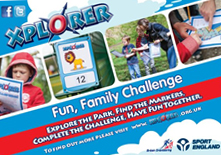 Xplorer is a fun form of orienteering aimed particularly at primary and pre-school children using a simple map of a park and pictures of animals. No experience of map reading is necessary for children or teachers to have fun! To find out more visit xplorer.org.uk.
---
Safety
See the Safeguarding page for information on the club's child welfare policies and procedures, codes of conduct, and data privacy.
---
Contacts and Newsletters
Newsletters
To keep informed about national curriculum developments and courses register for the British Orienteering Schools Newsletter. Register your school.
The Leicestershire Orienteering Club produces a termly newsletter for Leicestershire & Rutland Schools.
Sign up to receive Newsletter.
Contacts
British Schools Orienteering Association
Website
Membership is free and equipment can be bought at slightly reduced prices
Leicestershire Orienteering Club
Development Co-ordinator Roger Edwards
( or 0116 212 7547)