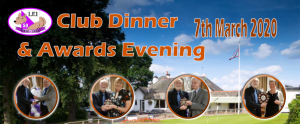 The 2020 LEI Dinner and Awards Evening
Will take place on
Saturday 7th March 2020
At the Longcliffe Golf Club Loughborough LE11 3YA
Gathering from 7.00pm, seated at 7.45 pm.
A dress code is in operation: No denim, t-shirts, trainers, etc. Gentlemen in jacket and tie. Ladies in suitable attire.
Cost per Person £23.00 Guests are welcome. Bookings should be made by 24th February 2020, via the club online entry system
Dishes may include nuts, gluten and dairy products. If you have any special dietary requirements, we will accommodate them, within reason, or if you wish to be seated with somebody in particular, please note this on the online entry form.
Payment ideally should be made directly into the Club's bank account, account number 74893286 at sort code 09-01-54, giving your name as the reference. Alternatively, a cheque may be sent to the Treasurer (Roger Edwards), made payable to Leicestershire Orienteering Club
Menu
Homemade Mackerel and Horseradish Pate and Melba Toast
or
Fanned Melon and Berries
or
Egg Mayonnaise
or
Wild Mushroom Soup
or
Garlic Mushrooms on Brioche
or
Traditional Prawn Cocktail
*****************************************
Poached Fillet of Salmon, served in a Hollandaise Sauce
or
Lamb Steak, served with Redcurrant Jus
or
Roast Pork, served with Apple Sauce
or
Braised Blade of Beef, served in a Red Wine Sauce
or
Roast Chicken with Stuffing
or
Wild Mushroom Risotto (v)
All of the above are served with a selection of fresh seasonal vegetables and potatoes
************************************************
Lemon Meringue Pie
or
Bread and Butter Pudding and Custard
or
Chocolate and Raspberry Roulade
or
Fresh Fruit Pavlova
or
Mixed Berry Crumble with Custard
or
Cheese and Biscuits
**********
Coffee/Tea and Chocolate