| Contacts | Upcoming dates | Kit and Cost |
The evenings include a mix of orienteering skills, physical training, and fun activities, mostly led by the club coaches. Regular attendees cover all ages and all levels of experience. Club nights include indoor and outdoor activities depending on weather conditions.
When & Where
Tuesday evenings 6.30 to 8.00pm.
This autumn they are a series of MapRun courses using GPS to identify the control sites, mainly using new urban areas in different parts of the City and County.
After Xmas we will be at South Charnwood High School. Map Link
During lighter evenings from April to September some of the sessions are held away from the usual venue to give variety of terrain and challenge.


Booking Contacts
If you are a newcomer to the club, Please contact the Organiser prior to your first session so that we can ensure the Newcomers Resource Pack is brought along.
Contact: Derek Herd; Tel: 07920090299; email: derek@herd.kiwi
Our coaches are shown at http://www.leioc.org.uk/our-coaches-2/
---

Kit and Equipment : You will usually need footwear suitable for the gym and for the playing fields. In the autumn and spring you will need warm clothing for outdoor activities. When it's dark you will need a torch to read the map. For the MapRun courses you will need a mobile phone with GPS enabled. Everything else can be provided.
If you want to buy equipment, you are welcome to try out the club's loan compasses and dibbers during one of the sessions before choosing.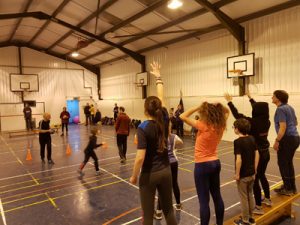 Charge: Families £5, Adults £3 and children £1.50 per session.
Do I need to join the Orienteering club?
You do not need to join the club while you come to taster sessions, but you get free club magazine and refund of some event fees if you do. Senior membership fee is about £20 and Juniors are £9.





---

Details of venue and activities for individual club and activity nights for the next 8 weeks are shown below. Click on one of the links below.